Pat Sapinsley, CEO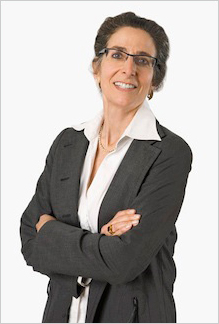 Pat Sapinsley, CEO, is a LEED AP architect, and Co-Chair of the Committee on the Environment (COTE) of the New York Chapter of the American Institute of Architects. In that capacity, she has worked with the NYC Mayor's Office of Long Term Planning to modify and implement the Energy Code and further the goals of the Greater Greener Buildings Plan. She is an active member of the US Green Building Council and Urban Green, and a Board Member of Green Light New York. She serves on the Advisory boards of Honest Buildings and Strategies in Light and is President of Build Efficiently, LLC which seeks to further the deployment of energy efficient strategies for buildings.
Ms. Sapinsley is a Visiting Scholar at Harvard University's Wyss Institute for Biologically Inspired Engineering. There, Ms. Sapinsley assists in translating biologically-inspired technologies into commercial products through collaborations with clinical investigators, strategic corporate entities, and venture capital investors.
Prior to starting Build Efficiently, she was Venture Partner at Good Energies, where she monitored developments in green building technologies, performed due diligence and industry analysis of energy efficiency start-ups leading to investments in portfolio companies.
From 1982 until 1993, Ms. Sapinsley was a principle of Sapinsley Architecture. Ms. Sapinsley has held adjunct professorships at several universities. She has taught at Columbia University's Graduate School of Architecture, the City University of New York Graduate School of Architecture, the Institute for Architecture and Urban Studies, Parsons School of Design and the Pratt Institute. She holds an MArch from Harvard University GSD.
Our strategic alliances, with companies such as Wiedenbach-Brown and Green Light Initiative, are available to advise, help with specifications and fulfill orders on all of our projects. No individual lighting designer or architect can keep up with 300+ manufacturers. Yet our alliances allow us to do exactly that. These affiliates have placed millions dollars worth of energy efficient lighting into service.